The Business of Bike Etiquette
This is a guest blog post by Eric Mamroth – cyclist, benefit auctioneer and wonderful husband to Arden Clise.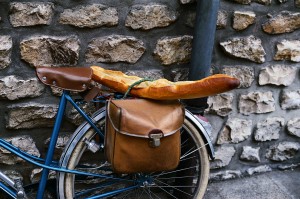 If you are following the Tour de France this year, you probably have an opinion on whether Alberto Contador should have waited for Andy Schleck when he had a mechanical problem.  Schleck dropped his chain while launching an attack on the final climb of Stage 15, and had to stop to repair the problem. Later, Schleck expressed anger by what he saw as a lack of "fair play", and according to cycling etiquette, he says Contador and the other riders should have waited for him. He finished 39 seconds behind Contador, who now holds the overall lead by 8 seconds. 
There is bicycle etiquette in the world of mortal bicycle commuters too. The flow of motor vehicle, bicycle and pedestrian traffic is based on some simple and basic rules of the road. Honor the right-of-way and the flow proceeds more or less smoothly; assuming and/or preempting that right-of-way creates confusion, contempt or worse.
When you pass a fellow cyclist stopped on the side of the road, slow to see if they need any assistance. Whether it is a novice commuter dealing with their first flat tire, or a veteran commuter who inadvertently left the tool bag at home on the workbench, it only takes a few minutes to help out. 
There will always be someone faster, and slower than you. Ride right, pass left, call it out if you can and with a smile if possible. Some of us measure ourselves in the "Commuter 500" everyday; others are content to roll along taking in the sights, sounds and smells. Like it or not, this is the world we bike in.
Eric Mamroth is a regular bicycle commuter, enjoys tandem touring with his wife, and can't stop smiling during the cyclocross season.
---
Please note:
We have a new method of delivering blog posts to your inbox. If you have previously received these blog posts through Feedburner, please subscribe to receive these blog posts through the form below and unsubscribe to the posts you receive through Feedburner.
---
Sign up for the award-winning Clise Etiquette newsletter and receive a free chapter of Arden's book Spinach in Your Boss's Teeth.