One-On-One Etiquette and Communication Coaching
In our one-on-one coaching program you will learn the critical skills of professional protocol that make you shine as a leader in business. From workplace etiquette to communication and interpersonal skills, our program will lead to more success with clients and employees, and help you convey confidence in a myriad of professional situations.
Arden Clise works with established business leaders as well as individuals beginning their professional career with business etiquette, dining etiquette and communication.
Examples of those who have benefited from coaching include a young women transitioning from college to the professional world, a business owner wanting to improve his relationship building skills, someone new to the U.S. who needs to understand American business etiquette and cultural norms, and a sales person focused on strengthening his networking skills.
Areas covered include:
Dining etiquette and business entertaining
In-person and online networking skills
Polished, engaging and confident public speaking skills
Networking and mingling with ease
How to be taken more seriously as a woman in the workplace
Understanding your communication style and how to more effectively work with other styles
Confident interview skills
Appropriate attire for every business situation
Executive presence
Visiting and receiving clients
Running effective and productive in-person and virtual meetings
Tech etiquette - email, phone, voicemail, instant messaging, video meetings
Confident body language and non-verbal communication
Essential communication and conversation skills
Coaching takes place via Zoom or in-person for those who live in the Greater Seattle area.
The amount of time needed for coaching is decided after a thorough needs assessment is conducted with the client over the phone. Typically coaching packages are three, five or eight hours long, with each session being no more than ninety-minutes. Coaching sessions include consulting, feedback and role playing.
If you are interested in the possibility of pursuing etiquette coaching I offer a complimentary 30 minute informational session. Contact Arden today to learn more about how coaching can help you be your best self.
I found the coaching really helpful! The feedback on the interview practice questions was very useful and I think my answers are stronger. You are smart, savvy and experienced. You did a great job of honing in on my areas of weakness. My time with you helped me feel more confident and prepared to handle challenging conversations and situations.
MM
I was recently promoted to a senior leadership position. I knew I would be doing more public speaking. I also wanted to improve my interpersonal communication skills in terms of leading, giving clear directions, and managing relationships. After coaching with Arden, I feel more prepared and confident in my role as a senior leader in terms of communication, body language, and clarity. I also know I will be a better public speaker by the tips I learned.
Kara Putnam
Central Kitsap Fire and Rescue
Arden, since working with you last year, I have been gradually adding the tips you taught me in our coaching sessions. On Friday, I had my most nerve racking presentation yet. Thankfully, all the skills I learned from you came together. In fact, I didn't even need water because my mouth did not turn into a cotton ball. And, I got emails from several of my coworkers including my boss's manager telling me how wonderful my presentations were. Thank you so much for your excellent guidance.
Michelle Kowalchuk
I hired Arden to help me make a great impression in job interviews through interview practice and feedback. Arden is a master at role playing and mimicking live interviews. She picked up on things I was oblivious to, i.e., clicking pens, using weak language, etc. Eliminating these "ticks" helped me to be more confident in the interviews. I was ready for anything that came my way. And, the coaching paid off, as I received a job offer. Arden also helped me prepare for the negotiations. I felt the entire interview process was a great success!
TS
After attending Arden's business etiquette class, I felt I could benefit from additional help through coaching. I was having trouble interacting with my coworkers and managers on the job and at workplace social events. Arden has so much knowledge and personal experience with workplace etiquette, social skills and communication skills. No matter what question or problem I had in those areas, she always gave me several strategies and tips to address them. I highly recommend Arden and her expertise as a coach.
Jim C
I recently hired Arden help me spiff up both my speaking skills and confidence level. Between giving me pointers on my material, videotaping me as I practiced, and teaching me over a dozen tips and tools, a recent presentation I gave got super feedback — in part, thanks to Arden's coaching. She's truly one of the most gracious, skilled professionals I know, and I highly recommend her.
Lynn Baldwin-Rhoades
Thank you again for taking the time to meet with our family for etiquette coaching! Taking three children to their first formal event seemed like a daunting task but you made it all feel possible. Your friendly and practical approach was not only fun but effective as well. Our 11 year old looked refined and was so excited to identify the table settings!!! Even her conversation was all "grown up"!! You are the best I am happy to refer any of our friends to you.
Cari Williams
I had the pleasure of working with Arden one-on-one for her business etiquette series and had the best time. She really knows her material and has a lot of great backstory as how the traditions we have in modern business came to be. Arden has a calm, positive and kind manner, very poised. I feel more prepared and confident in my business interactions after completing her classes and would highly recommend Clise Etiquette to family, friends and colleagues.
Angela White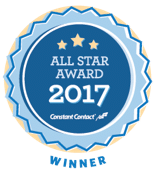 Sign up for the award-winning Clise Etiquette newsletter and receive a free chapter of Arden's book Spinach in Your Boss's Teeth.