Raised pinky fingers, scone slicing and other tea faux pas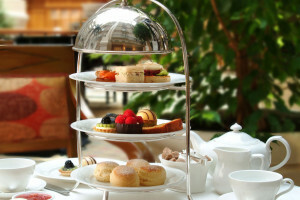 With a Starbucks on every corner and American's addiction to coffee, it's hard to believe that at one time tea was the beverage of choice.
Perhaps because it seems like a novelty, afternoon tea and tea parties are now in vogue – a fun reliving of a past tradition. Many hotels advertise High Tea, but the proper term is Afternoon Tea. High Tea was actually a full meal served to the laborers and miners at 6:00 PM. Afternoon Tea is the repast that includes petit fours, tea sandwiches, scones with clotted cream and jam, and is traditionally served between 3:00 and 5:00 PM.
I recently held a birthday afternoon tea party at the fabulous Columbia Tower Club. Eleven of my friends helped me celebrate my special day. It was so much fun! The food was fabulous, the view was incredible and the company was divine.
I shared a few tea facts and etiquette with my guests for fun. Did you know when drinking tea, or any liquid, you're supposed to look into the cup rather than over it? The reason is it is easier to spill when you're not paying attention to your cup. It also looks more demure when your eyes are focused on your cup.
Here are some other fun facts and tea etiquette tips.
When you are standing, hold the saucer and tea cup by cradling the saucer in your four fingers with your thumb securing the saucer on top. If you're sitting at a table there is no need to hold the saucer, keep it on the table and just pick up the cup. For larger handles, put your index finger through the handle with your thumb resting on the top of the handle. Your middle finger should support the handle and your fourth and fifth (pinky) fingers should curl in towards your wrist. For smaller handles, you would squeeze the handle with your thumb and pointer finger while resting the handle on your third finger and using the rest of your fingers to press against the cup to balance it.
People often think proper tea drinking means sticking your pinky out. That's actually rude and connotes elitism. It comes from the fact that cultured people would eat their tea goodies with three fingers and commoners would hold the treats with all five fingers. Thus was born the misguided belief that one should raise their pinky finger to show they were cultured. Tuck that pinky finger in.
When enjoying your tea, never swirl the liquid around in the cup like wine in glass. You might spill.
The hostess pours her guest's tea and asks, "With sugar, lemon or milk?" Put the sugar in first then the lemon, otherwise, the lemon will keep the sugar from dissolving. Always add milk, not cream which is too heavy for tea, after the tea has been poured. That way you can decide how much milk to add by seeing the color of the tea. And, never combine lemon and milk; the lemon will curdle the milk.
When stirring your tea avoid clanking your teaspoon against the cup. Instead swirl it quietly and then rest the teaspoon behind the cup on the saucer with the handle facing towards the tea cup handle. Never leave the teaspoon in the cup and never put it in your mouth.
Scones, petit fours and tea sandwiches are all traditional Afternoon Tea fare. To eat scones properly, do not use a knife to slice them open. Instead, just as you would with a bread roll, break off one small piece at a time, put butter, cream and/or jam on just that piece and enjoy.
The word "petit fours" means small oven in French. They are so named because they were baked in a small oven next to the main oven.
Afternoon Tea is a wonderful tradition. It's a lovely way to enjoy the company of friends while indulging in some delicious treats. Enjoy.
---
Please note:
We have a new method of delivering blog posts to your inbox. If you have previously received these blog posts through Feedburner, please subscribe to receive these blog posts through the form below and unsubscribe to the posts you receive through Feedburner.
---
Sign up for the award-winning Clise Etiquette newsletter and receive a free chapter of Arden's book Spinach in Your Boss's Teeth.