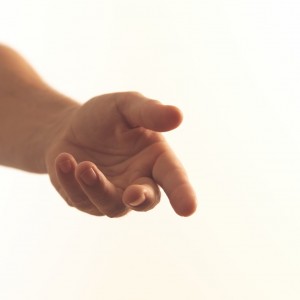 A friend of mine was recently traveling and shared something that happened to her while flying that made her wonder about the etiquette of the situation.
The town my friend flew into was small which required being on a smaller airplane. The little aircraft bucked and swayed in the sky more than a large jet usually does and my travel weary friend ended up getting sick on the plane due to the increased motion. I'll spare you the details, but she had to let the flight attendant know she had thrown up so he could have it cleaned up.
My friend mentioned that no one around her said anything despite her obviously being in distress. She also wondered if she should have cleaned up her mess. She had many unanswered questions.
While it's not fun being around someone who gets sick it would have been nice for those near her to have at least asked if she were OK, hand her some napkins and/or let the flight attendant know she was sick.
My friend was correct to let the flight attendant know about the situation. While I'm sure it was uncomfortable for her, she really was not equipped to thoroughly clean up the mess. The flight staff is trained and equipped to handle situations like this.
My friend's situation reminded me of a TV show I saw recently where they put young child actors on the street to act like they were lost. The producers of the show wanted to see if people would stop and help the child. Very few people actually did stop. The majority just walked by.
I was also thinking about something I experienced. I recently had elective surgery that requires me to use crutches or a walker for a while. I went to the grocery store with my husband and used one of the motorized carts to get around. It was difficult for me at first to be "handicapped" and for people to see me that way. I eventually got over it, but I noticed that despite the big basket in front of the cart, I could not reach anything higher than about 4 feet off the ground. Thankfully my husband was with me, so he was able to get the things we needed.
But, what if he hadn't been there? What if I had to use a motorized cart on a regular basis to get around by myself? How could I reach those upper items? A friend who had knee surgery and also had to use the motorized cart mentioned that now when she sees someone in one of those carts, she offers to help them.
All of these situations are somewhat unusual. But, here's the deal, we need to stop and help others. Put yourself in the other person's shoes and ask yourself, if I were in that situation what would I need/want? Remember we too can end up in a difficult situation and we would want others to help, right? Sometimes we just have to step outside of our internal worlds and see the need and then respond.
Have you ever been in a situation where you needed help? How did people respond? Have you wondered how to help someone in distress? What has held you back from helping others?
---
Please note:
We have a new method of delivering blog posts to your inbox. If you have previously received these blog posts through Feedburner, please subscribe to receive these blog posts through the form below and unsubscribe to the posts you receive through Feedburner.
---
Sign up for the award-winning Clise Etiquette newsletter and receive a free chapter of Arden's book Spinach in Your Boss's Teeth.