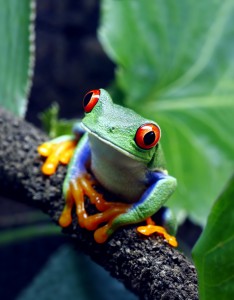 My husband and I often go someplace warm and sunny in the winter to escape the gray rainy Seattle days for a bit. This year we decided to go to Costa Rica. Many of our friends have been and spoke highly of the country. 
Sadly, neither of us speaks much Spanish — just enough to get by. It's hard to believe I don't speak more Spanish given my mom spent her teenage years living in Peru and spoke it fluently. How I wish she had spoken to us in Spanish as we were growing up. But alas, my Spanish is limited to things like "please", "thank you", "how much does this cost?", "where are the bathrooms", "the check please", "I don't speak Spanish", and a few other useful phrases.
Despite my limited vocabulary, I always try to say what I can in Spanish so that it shows I'm making an effort.
Having spent a lot of time in various places throughout Mexico, I was used to the Mexican people saying "de nada" (you're welcome), when I would say "gracias" (thank you). After a couple of days in Costa Rica, I noticed the Ticans (Costa Rican residents) would say "mucho gusto" (my pleasure) whenever I said "gracias".
It took me a bit to register the difference, but after thinking about it, I really liked that the Ticans would say "mucho gusto", rather than "de nada". Both are appropriate and polite and much nicer than the English phrase "no worries", but "mucho gusto" seems extra gracious. It means, it is my pleasure to help you. It made me feel like an honored guest in their country.
Isn't it interesting that just two little words could have such a positive impact? There is a reason so many people are visiting or moving to Costa Rica. Besides the magnificent rainforests inhabited by exotic and beautiful wildlife, the Ticans are some of the kindest and most gracious people.
Have you ever been to Costa Rica? Have you been struck by differences in word use in your travels to other countries? What do you think about the phrase "my pleasure?"
---
Please note:
We have a new method of delivering blog posts to your inbox. If you have previously received these blog posts through Feedburner, please subscribe to receive these blog posts through the form below and unsubscribe to the posts you receive through Feedburner.
---
Sign up for the award-winning Clise Etiquette newsletter and receive a free chapter of Arden's book Spinach in Your Boss's Teeth.