How to impress family and friends at Thanksgiving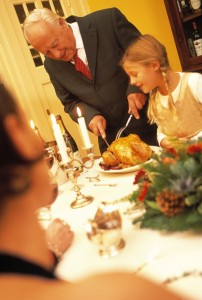 We often pull out the linens, nice china and silverware for Thanksgiving and other holiday meals. The formality of the table and the occasion can sometimes be intimidating. Follow these guidelines and your family and friends will be mightily impressed with your lovely manners.
If there are place cards on the table, don't move them to accommodate who you would prefer sitting next to. Uncle Joe might be a real bore, but if your place card is next to his, that is where you're meant to sit.
Wait to sit until the host and/or hostess have sat. Put your napkin on your lap when you sit down. Use it frequently to wipe your mouth during the meal. If you have to get up during the meal, put your napkin on your chair.
Does the crowded table make it hard to tell which bread plate is yours or which glasses belong to you? Remember this guideline – BMW – the Bread plate is on the left, your Meal (or plate) is in the middle and your Water (or glasses) are on the right.
If you are confused about which utensil to use remember the outside in rule. Use the utensils farthest away from the plate and work your way in towards the plate.
Once food is on the table, wait to start eating until the last person has been served and the host or hostess begins eating or tells you to go ahead.
When buttering your bread, take some butter from the butter dish and put it on your bread plate, not directly onto your bread. Then, tear off a small piece of the bread and butter just that piece. Continue eating and buttering a small piece at a time.
My neighbor, Sally, shared with me that when she was a teen she was invited out to dinner with her boyfriend and his family. Sally picked up her bread roll, sliced it in half with her knife and proceeded to butter the whole half. Her boyfriend chided her and told her she was eating her bread wrong. Poor Sally was mortified, but she will never forget how to properly eat her bread.
If someone asks for the salt, pass both the salt and pepper. Salt and pepper are like a happily married couple, they are always together, so don't separate them even if someone just wants the salt.
Cut your meat one piece at a time not all at once, lest you want to look like a child. Chew with your mouth closed and don't speak with a mouthful of food. To be an elegant diner take smaller bites and avoid making sounds.
If you have to lift your fanny off your chair to reach for an item it is too far away. Instead ask the person nearest the item to "Please" pass it to you. Be sure to say "Thank you" when you receive the item. When passing food it is passed to the right.
You may be surprised to know that you may put your elbows on the table between courses. When you are eating, keep your elbows off the table.
Never complain or say you don't like something. Try a bite of everything and if you dislike it let that be your secret. Push it around a bit on your plate so it's not obvious you're not eating an item. Be sure to compliment the cook(s). Find something positive to say about everything, even if it's something like, "I love how colorful your Jello salad is Aunt Mary".
You will know when the meal is over when the host(ess) puts his or her napkin on the table. Do the same. Place your napkin slightly crumpled up to the left of your plate or where your plate was. Never put it on your plate.
Lastly, never comment on someone's bad manners. Simply be an elegant example of how to behave at the dinner table. Those who notice will truly be impressed.
Happy Thanksgiving!
---
Please note:
We have a new method of delivering blog posts to your inbox. If you have previously received these blog posts through Feedburner, please subscribe to receive these blog posts through the form below and unsubscribe to the posts you receive through Feedburner.
---
Sign up for the award-winning Clise Etiquette newsletter and receive a free chapter of Arden's book Spinach in Your Boss's Teeth.