What graciousness and heated seats have in common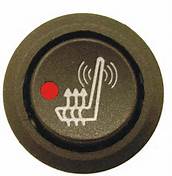 On my way to yoga class this morning I was willing my heated seats to hurry up and get warm because it was chilly in the car. Despite wanting to get warm, I smiled as I recalled a time shortly after buying my car when my sister-in-law, Beth, was visiting over the holidays.
We were going somewhere in my car and I proudly told her she could warm up with the heated seats. My gracious sister-in-law responded with a smile and enthusiastically said, "Oh how lovely, how long before I'm toasty?"
The reason I grin when I think back to that time is Beth has always driven very nice cars with not only heated seats but all of the other luxury features. She could have responded by saying something like, "Oh yes, I have them in my car, aren't they great!" But instead, she saw how immensely proud I was to have heated seats for the first time in my life in my used TSX. She made me feel special by letting me have this little braggart moment without telling me that she has had that luxury for many years.
Beth is very gracious. She knows how to let people feel special and she is careful not to eclipse their light. Instead, she adds to it, making others feel even brighter.
When I teach children's etiquette classes, I talk about why we shouldn't brag (guess I wasn't really thinking about that lesson when I pointed out my heated seats to Beth). Instead, I discuss how wonderful it is to let others brag for you. That is, let others point out your accomplishments rather than telling people yourself.
I was training my new associate, Jessica, at my last children's class, as she will be taking on the children's program, and I asked her if she could think of an example of pointing out someone's accomplishments. She said to the kids, "Ms. Clise is very good at coming up with fun activities for manners class." While I was not intending for her to talk about me, it was a perfect example of shining the light on someone else.
So, two lessons. Try not to brag, instead let others point out your successes like Jessica did, and when someone does brag, think of Beth and let them have their bragging moment. Don't try to one up them. Your enthusiasm and modesty will make a more positive impression whether you're interacting with coworkers, friends or family.
---
Please note:
We have a new method of delivering blog posts to your inbox. If you have previously received these blog posts through Feedburner, please subscribe to receive these blog posts through the form below and unsubscribe to the posts you receive through Feedburner.
---
Sign up for the award-winning Clise Etiquette newsletter and receive a free chapter of Arden's book Spinach in Your Boss's Teeth.