Don't forget the hostess gift
There is a funny Seinfeld episode where Elaine, George and Jerry are headed to a dinner party and Elaine mentions to Jerry that they need to stop and pick up a bottle of wine to bring as a hostess gift. George is perplexed by this and doesn't understand why he should be expected to bring a gift to a party he's been invited to. Elaine responds that "it's rude otherwise." George suggests bringing a bottle of Pepsi because he "doesn't like wine." If you feel as clueless as George about the tradition of hostess gifts don't despair. Help is here.
For events that are hosted in someone's house, it is polite to bring a hostess gift, and no, a bottle of Pepsi is not an appropriate offering. A hostess gift is a way to say thank you to the host(s) for inviting you to the party. The gift does not need to be extravagant or expensive. Typically you shouldn't spend more than $25 on the gift.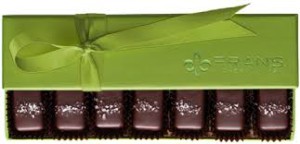 Some appreciated items include cocktail napkins, gourmet chocolates, a bottle of balsamic vinegar or a tasty spread or jam of some sort. You could also bring something homemade like holiday cookies or a jar with the ingredients for something yummy.
If the event is a potluck and you've been asked to bring a dish to share, the dish is your contribution. You don't need to bring a hostess gift on top of that.
One item not to bring is cut flowers. When you bring flowers the host has to take time out of greeting and entertaining her guests to find a vase and arrange the flowers. You could instead bring a planted flower such as a poinsettia, amaryllis or some flowering bulbs.
You don't need to wrap the gift, especially at the holidays because it might be confused as a holiday gift rather than a hostess gift. But, do put a bow around the item or put it in a gift bag to dress it up a bit. Be sure to include a card or tag with the item so it's clear who it came from. This will help the host who may receive several gifts and not remember who brought what or if you're not able to hand it to the host directly. When you do give it to the host, say something like "A little something for you to enjoy later as a thank you for inviting us to your party." That way it's very clear it's a hostess gift.
Don't expect the host to serve or use the hostess gift, including wine, at the party. The gifts are hers to enjoy later. And, hosts, you don't need to send a thank you note to the giver. That would be like saying thank you for the thank you gift. Simply thank your guest when you receive it. If you happen to talk to the giver later you can mention how much you enjoyed the item.
However, those who attended the party do need to send a thank you note, preferably handwritten and sent via snail mail, to thank the host(s) for the party. It doesn't have to be long, just a few sentences to let the host know how much you enjoyed the party.
It's these little niceties that get you invited back – unless, that is, you bring a bottle of Pepsi.
Happy party going.
---
Please note:
We have a new method of delivering blog posts to your inbox. If you have previously received these blog posts through Feedburner, please subscribe to receive these blog posts through the form below and unsubscribe to the posts you receive through Feedburner.
---
Sign up for the award-winning Clise Etiquette newsletter and receive a free chapter of Arden's book Spinach in Your Boss's Teeth.