Why I became an etiquette consultant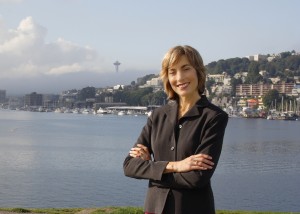 I'm often asked how I became an etiquette consultant. After all, it's not every day someone becomes an etiquette expert. And, if some knew me in my rebellious, wild twenties they might be even more surprised I ended up doing what I do.
While manners were important to my parents, they didn't emphasize them any more than most families did. I didn't spend years at charm school or get whacked with a ruler by an uptight great aunt. And, when I look back on my childhood, the only aspect of manners I remember learning was how to hold my fork and knife correctly. Which at the time seemed particularly onerous and meaningless.
After my parents divorced my dad remarried and my younger brother and I moved in with my dad and step-mom. I remember my step-mother thinking my brother's and my manners were awful, so we had to go through another cycle of learning another person's definition of manners. You'd think after that I wouldn't want anything to do with manners and etiquette. Maybe that's why I was a rebellious twenty something.
My interest in teaching etiquette began when I worked for Washington Mutual. In my first job there I managed the community sponsorships of non-profit groups' fundraising events – breakfasts, lunches, auctions. Usually our sponsorship included a table for us to fill with WaMu employees. Almost always someone sitting at the table would look panicked as they were faced with a formal place setting with many utensils, plates and glasses. I felt bad for them and thought it would be fun to teach a class on navigating the place setting. I didn't pursue this though.
Years later I worked for a credit union and for some reason the CEO would often ask me etiquette, attire and protocol sorts of questions – "What should I wear to this meeting?" "How do I make this introduction?" I found I really enjoyed advising him and was pleased I had knowledge that I could share to make him feel more comfortable and confident when approaching certain situations.
For many years I had wanted my own business, but I never knew what it was. I had lots of ideas – a coffee shop, a natural pet supply store, a clothing store for tall women – but I never acted on them. Finally, at the credit union, the desire to start my own business became much stronger but I still wasn't sure what the business would be.
I decided to work with a wonderful life coach. I asked her to help me figure out what business I should start and to push me to do it. She suggested I do a Google search on various words that seemed close to what I was doing with the CEO. I searched on the terms leadership, etiquette and protocol consultant and other phrases. What surprised me was how many hits I got on "etiquette consultant". I discovered there was a whole world of etiquette consultants out there and schools to train them. I started to get excited when I learned more about what etiquette consulting entailed.
After talking to several etiquette consultants around the U.S. I realized that was what I wanted to do. But, I was terrified it wouldn't work in casual Seattle. I also worried people would be nervous around me because of the work I do. I had to spend quite a bit of time working through these concerns.
Long story short, I got trained as an etiquette consultant at The Etiquette Institute in St. Louis, Missouri and shortly afterwards I started Clise Etiquette. I love my work. I absolutely love helping people feel more at ease in business and social situations.
I've had so many wonderful clients with whom I have enjoyed working. Some of whom have experienced profound changes after our work together. One client, who was potentially on the verge of losing her job, said working with me was life changing, and she is still employed. Another client, who has brought me back for staff trainings for several years, said my training transformed her company from one with low morale and bad communication to a happier, better communicating workplace.
And, that's more than I could ever ask for as a business owner.
Have you thought of starting a business? What would it be? If you're currently a business owner, what drew you to do what you do? What do you love about your business?
---
Please note:
We have a new method of delivering blog posts to your inbox. If you have previously received these blog posts through Feedburner, please subscribe to receive these blog posts through the form below and unsubscribe to the posts you receive through Feedburner.
---
Sign up for the award-winning Clise Etiquette newsletter and receive a free chapter of Arden's book Spinach in Your Boss's Teeth.