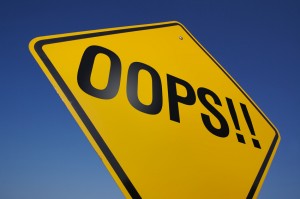 I received an email from a doctor's office where the sender put all of their patients' email addresses in the "To" field rather than the "BCC" field. That meant every patient could see all of the other patients' email addresses. Oy, let me count the ways that that is bad news.
To begin with, that is a violation of privacy, especially given the private nature of the business. It's actually a HIPAA, (Health Insurance Portability and Accountability Act) violation because it is a healthcare organization.
But worse than that, was an unhappy patient decided to send an email to the whole list and state that because he had not had a complaint addressed the doctor was a scam. How do you think that made the patients feel? Concerned that the doctor might be a scam (actually, I think the correct term would be "scam artist")? Worried that some disgruntled patient has our email addresses? Wondering if we want to continue doing business with this doctor? It's probably all of those things. This was a very costly mistake for the business.
I'm sure the assistant or receptionist who sent the email had no idea that what she was doing was A. a violation of privacy, B. bad email etiquette and C. a potentially expensive mistake to the business. She knows now. I feel for her.
Email is a wonderful tool, but it must be used carefully and thoughtfully. If you need to send an email to a group of people, always, always put their email addresses in the "BCC" field.
Has this sort of thing ever happened to you? How would you feel if you were one of the patients included in the email? What would you do?
---
Please note:
We have a new method of delivering blog posts to your inbox. If you have previously received these blog posts through Feedburner, please subscribe to receive these blog posts through the form below and unsubscribe to the posts you receive through Feedburner.
---
Sign up for the award-winning Clise Etiquette newsletter and receive a free chapter of Arden's book Spinach in Your Boss's Teeth.