How to tell the waiter you're still eating without saying a word
Did you know there are signals you can use to let the wait staff know you are still eating or are finished? Perhaps you are taking a break from eating for a moment but you don't want the waiter to think you're finished. There's nothing worse than being engrossed in a conversation and then noticing your half eaten meal has been removed because the waiter assumed you were finished. Thankfully, you can communicate your eating status with some simple codes through your utensil placement.
The codes are best explained with photos. But basically, to let the waiter know you are still eating, if you're eating American style, you put your knife across the top of the plate, with the blade facing in towards you and your fork on the side of your plate at 4:20, if your plate were a clock. See the diagram below.
If you are eating Continental (or European) style, you place the fork with the tines down at 8:40 on the plate and the knife at 4:20 on the plate. Continental style is where you eat with the fork always in the left hand, and knife in the right hand (or possibly reversed if you're left handed), and you use the knife to push food onto the back of your fork. See diagram below.
Now, when you want to signal you are finished, whether there is food on the plate or not, you put your fork and knife together at 4:20 on the plate. If you're eating American style, your fork tines face up.
If you're eating Continental style, the fork tines face down.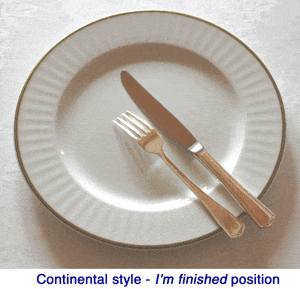 For the wait staff out there, I'd like to encourage you to refrain from asking "Are you still working on that?" It's a rather unpleasant expression – as if eating the meal is a chore. Instead, if you don't see the server codes, ask, "May I take your plate?", or "Are you finished?
And, waiters, whether you see the finished code or not, if a plate is empty please do not ask the diner if she is finished. If the plate is empty you are safe to remove the plate.
One last dining tidbit, never put your napkin on your plate. Instead, when you are finished and are leaving the table, put your napkin crumpled up slightly to the left of your plate or where the plate was. Keep your napkin on your lap until you are ready to leave even if you are finished eating. Why? Because no one wants to look at a soiled napkin while they are at the table.
That's our dining lesson for today. Bon appetit!
Save
---
Please note:
We have a new method of delivering blog posts to your inbox. If you have previously received these blog posts through Feedburner, please subscribe to receive these blog posts through the form below and unsubscribe to the posts you receive through Feedburner.
---
Sign up for the award-winning Clise Etiquette newsletter and receive a free chapter of Arden's book Spinach in Your Boss's Teeth.